One App for Multiple Devices for VR & AR
Any Time, any Place, any Device
View your Spaces on these Supported Devices
Fectar app is available for download in the app stores of these VR and AR Devices
iOS Devices from 2016 and newer
Smartphones from 2016 and newer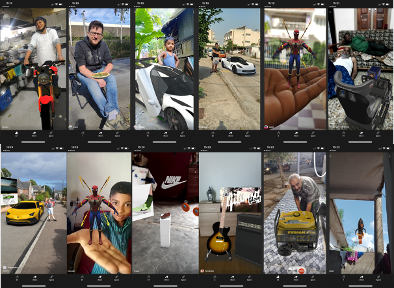 6 Million downloads in 3 years
Nr.1 VR & AR APP in the world
When we launched the Fectar App, we wanted users to have the best Virtual and Augmented experience possible, without the latest VR Headsets, high-end smartphones, or high-speed internet connection. Because VR and AR should not be about technology or hardware, it is about the message, about the experience. And our users love our app with more than 6 million downloads in the 3 years after launching Fectar.
users love fectar
with thousands of VR and AR Experiences
Fectar app is available on Meta Quest 2 & PRO, Pico 3, 4 & PRO, smartphones (iOS and Android), and Microsoft Hololens
powered by Fectar Studio
Create content quickly

–

no coding skills required
We're democratising the power of XR, giving you intuitive access to deep engagement tools and features. Plus, market-leading architecture and data-rich insights. Start fast and learn fast with Fectar (no coding required).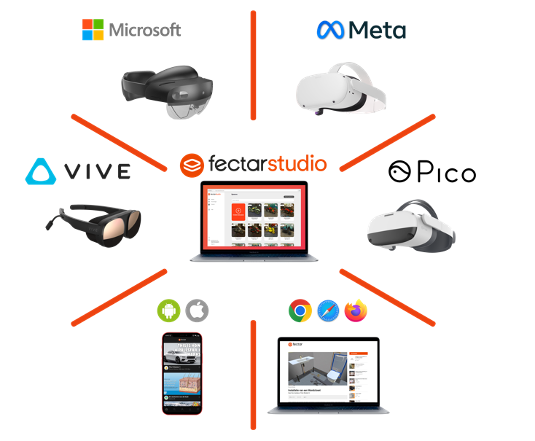 One app for VR and AR
Go live on multiple devices with just one click
You can do this yourself. No need for IT developers, 3D modellers, Unity experts, App Store management, update, upgrades, software installation. And there is no cap on the number of viewers of your content. And no hidden charges for data or buttons.
collaborate in VR & ar
Set up a Joined Session in VR & AR at the same time
Publish your 3D content and work together in XR across the globe. Remote assistance, remote teaching, sales training, co-design, Digital Twin with iOT Data, all accessible in a Joined Session.
Channels and more
Get your own Channel, Followers and Likes
With Fectar you create new customer journeys, enter new markets, get new insights in user behaviour, share 3D content instantly, level up in your Digital Transformation and more. The app offers a fast and easy playground to test your Proof of Concept before integrating Fectar into your existing app or website.
UPGRADE YOUR APP WITH AUGMENTED REALITY
Now you can add the core of the Fectar App to your App: integrate ARView©
Fully Personalized or Unbranded Version
For Web, Print and App integration
Supports high quality 3D Content and Interactivity
Add your own Brand and styling for seamless integration
Scalable, safe and proven Technology
Compatible with 2 billion Devices worldwide